Driven by her belief in a universal language of shapes and symbols, jewelry designer Anne Sportun looks to nature for inspiration. Anne finds perfection in asymmetrical organic forms and subtly translates these images into her work.
By allowing pave-set diamonds to undulate on an irregular gold band, Anne combines traditional goldsmithing techniques with the unconventional. This brings a sophisticated dichotomy to her pieces. In her work and in her life, she strives to balance the precious with the everyday.
Like what you see? Give us a ring! We can wrap it and ship it today.
P: 772-234-6711
The dog always wraps for free!
Give a gift from the Laughing Dog Gallery, and our signature gift-wrapping will let them know it's something spectacular before they even open the package.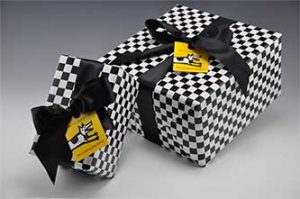 Related Artists