Wendelyn Cordwell discovered her passion for art and design later in life. After pursuing a degree in elementary education, raising her son and working in accounting, she felt that it was time to further her creativity. It wasn't until 2011, however, that Wendy saw an exhibit of torn paper collages and was immediately drawn to the eye-catching technique. Today, Cordwell is still tearing paper and now teaches others the art of collage.
Like what you see? Give us a ring! We can wrap it and ship it today.
P: 772-234-6711
The dog always wraps for free!
Give a gift from the Laughing Dog Gallery, and our signature gift-wrapping will let them know it's something spectacular before they even open the package.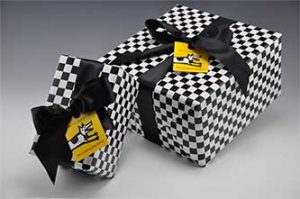 Related Artists