Every Spiritile is handcrafted in Charleston, SC from American made copper, glass and wood. Finely ground colored glass is handpainted on copper, then fired by kiln at 1500 degrees. "It's like drawing with sand", Llew says, "then toasting it on a very hot fire".
The true gift of Llew's Spiritiles lies not only in the detailed and shimmering glass images, but also in the stories embedded on the sides. There is always a Spiritile that resonates and always someone who comes to mind when you pick one up and read it.
With every new collection released, other Spiritiles are retired. They will never fade or tarnish, and are created to endure generations. To collectors, Spiritiles visually share the brilliant moments that make up the unique story of life.
Like what you see? Give us a ring! We can wrap it and ship it today.
P: 772-234-6711
The dog always wraps for free!
Give a gift from the Laughing Dog Gallery, and our signature gift-wrapping will let them know it's something spectacular before they even open the package.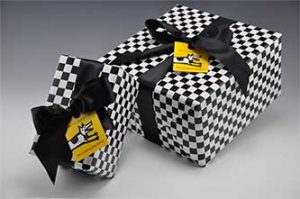 Related Artists