Scott works out of Benton, Kansas making ornate and dynamic glass sculptures, paperweights, platters, and more. His first love was biology, but after teaching for years, the spark of art passed down from his father caught in Scott and he switched to glass art full time. Scott makes all of his own glass in his studio starting with mixing the most basic elements of sand and soda ash and melting them together to make glass.
Like what you see? Give us a ring! We can wrap it and ship it today.
P: 772-234-6711
The dog always wraps for free!
Give a gift from the Laughing Dog Gallery, and our signature gift-wrapping will let them know it's something spectacular before they even open the package.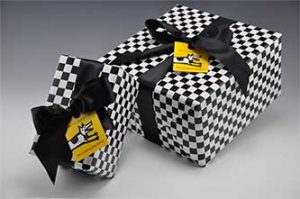 Related Artists