Elizabeth Garvin's jewelry is a bold, hybrid style combining fine, fashion and art jewelry principles.  Hand fabricated from start to finish in her New York City studio, Garvin designs with diamonds, 18K gold, 950 palladium, platinum and oxidized silver.  Combining the oldest hand traditions of jewelry making with new technologies like CAD and laser welding, the breadth and range of her creative voice is boundless.  Bold architectural forms with fine surface details are signature elements of her style.  Each piece by this self-taught jeweler is intrinsically different at its inception.
"Many of my techniques have sprung from years of hands-on work in the studio.  For me, the design of a piece, and the process that makes it, cannot be separated–each informs the other, and challenges the other, and drives the finished piece past my original concept to embody the true sense of the idea."
Like what you see? Give us a ring! We can wrap it and ship it today.
P: 772-234-6711
The dog always wraps for free!
Give a gift from the Laughing Dog Gallery, and our signature gift-wrapping will let them know it's something spectacular before they even open the package.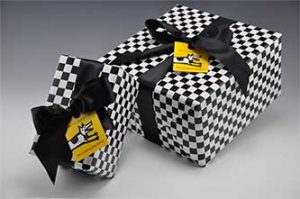 Related Artists