The contemporary design and bold colors exemplify the styles of Renato Foti's work in fused and slumped glass. The main focus of these works is to add structure, balance, color and simplicity to the home and working environments. Balance is of critical importance to the pieces. It's a reflection of Renato's personal philosophy in life and in his art.
Like what you see? Give us a ring! We can wrap it and ship it today.
P: 772-234-6711
The dog always wraps for free!
Give a gift from the Laughing Dog Gallery, and our signature gift-wrapping will let them know it's something spectacular before they even open the package.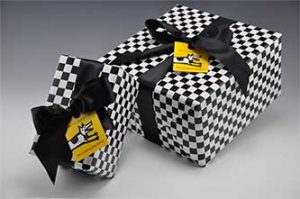 Related Artists