For over 20 years, Paul and Carol have worked together, developing a body of work that is recognized all over the world.  They blow and form each piece individually, primarily from glass that they have formulated themselves.  Their signature pyramid bases are formed in a mold, then joined hot to bowls and vases which are formed freely, without molds.
Their work reflects architecture, the effects of time, and the texture in nature.  It is elegant and refined, and makes a stunning complement to a contemporary or traditional decor.
Like what you see? Give us a ring! We can wrap it and ship it today.
P: 772-234-6711
The dog always wraps for free!
Give a gift from the Laughing Dog Gallery, and our signature gift-wrapping will let them know it's something spectacular before they even open the package.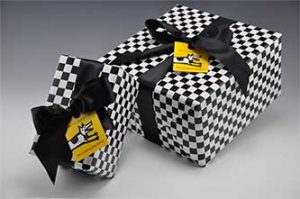 Related Artists