Marsha Blaker and Paul DeSomma are Santa Cruz, California based artists who work both collaboratively and independently on a variety of glass projects and series. The pair met at the Pilchuck Glass School in 1989, married in 1991 and opened their glass studio in 2001.
Marsha's detail-oriented work is influenced by the intricacies of the marine environment, with emphasis on the myriad of textures and colors. Paul, a minimalist at heart, is most interested in freehand solid glass sculpting, emphasizing the clarity, form and optical nature of colorless and transparent colored glass.
Marsha and Paul share a love of nature, the ocean environment, and a love for an "ice-cracking cold" beer.
Like what you see? Give us a ring! We can wrap it and ship it today.
P: 772-234-6711
The dog always wraps for free!
Give a gift from the Laughing Dog Gallery, and our signature gift-wrapping will let them know it's something spectacular before they even open the package.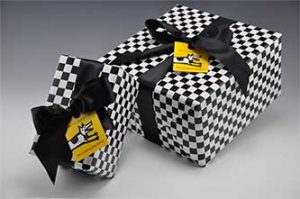 Related Artists