"The intent of my ceramic work is to create organic, flowing compositions which serve as lively and useful centerpieces. In these random and conscious groupings, which resemble things found in nature, elements of shape are combined, emphasizing fluid forms and rich, subtle color relationships. I am constantly striving to make pottery that is substantial, yet lighthearted and which adds richness and vitality to any environment."
Like what you see? Give us a ring! We can wrap it and ship it today.
P: 772-234-6711
The dog always wraps for free!
Give a gift from the Laughing Dog Gallery, and our signature gift-wrapping will let them know it's something spectacular before they even open the package.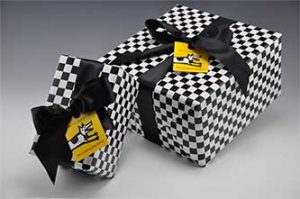 Related Artists