The softly rounded forms of river stones have been a consistent source of inspiration throughout my life. I've held, examined, stacked, skipped and frequently taken them home. My journey creating stones out of clay began while living on the Big Wood River in the central Idaho mountains. That inspiration let to exploration and, after fifteen years, these ceramic stones continue to be my passion.
Like what you see? Give us a ring! We can wrap it and ship it today.
P: 772-234-6711
The dog always wraps for free!
Give a gift from the Laughing Dog Gallery, and our signature gift-wrapping will let them know it's something spectacular before they even open the package.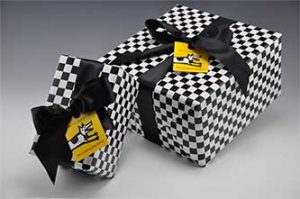 Related Artists