"My dialog with clay has developed over the past 30 years or so, and I find working with clay to be a lifetime commitment that grows more rewarding with each passing year.
I draw inspiration from the events and experiences of daily life, as well as the beauty of the surrounding Tahoe and Great Basin areas and their abundant life forms. Currently, my work includes a wide variety of narrative sculptural pieces and forms in raku, sawdust, pit fire, as well as high-fired functional ware."
Like what you see? Give us a ring! We can wrap it and ship it today.
P: 772-234-6711
The dog always wraps for free!
Give a gift from the Laughing Dog Gallery, and our signature gift-wrapping will let them know it's something spectacular before they even open the package.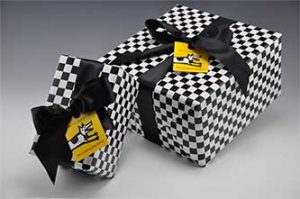 Related Artists