Andrew displayed a talent for artwork and building at an early age.  He developed his skills in high school metal and jewelry classes, earning him work at a custom jeweler's studio and several scholastic awards on a national level.  This energy, in combination with a scholarship, propelled him to the College of Creative Studies in Detroit.  There he abandoned the small and delicate format of jewelry in favor for larger scale sculpture.  Once he was exposed to hot glass, there was no doubt it was the beginning of a life long relationship.  "The material holds an excitement I can feel and there's endless possibilities in form, technique and physical attraction."
His studies continued at the California College of Art and Pilchuck Glass School on a full scholarship.  He opened his own studio in Detroit in 2000, and now operates in a 10,000 square foot state-of-the-art facility where his creativity and craftsmanship continue to evolve.
Like what you see? Give us a ring! We can wrap it and ship it today.
P: 772-234-6711
The dog always wraps for free!
Give a gift from the Laughing Dog Gallery, and our signature gift-wrapping will let them know it's something spectacular before they even open the package.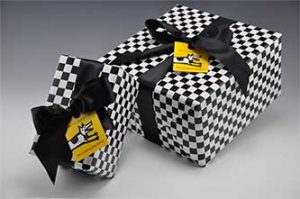 Related Artists