Sonja Grondstra gathers beach glass on the shoes of New England, drawn by soothing shapes and colors formed by Mother Nature after many years of being tumbled and tossed along the rocky coast. Select pieces of beach glass are then set into intricate necklaces, bracelets, earrings, rings and pins. Silver, gold and semi-precious stones are used to create a unique and special collection.
Grondstra's signature series is called "Oceans Apart," dedicated to her family and friends across the Seas.
Like what you see? Give us a ring! We can wrap it and ship it today.
P: 772-234-6711
The dog always wraps for free!
Give a gift from the Laughing Dog Gallery, and our signature gift-wrapping will let them know it's something spectacular before they even open the package.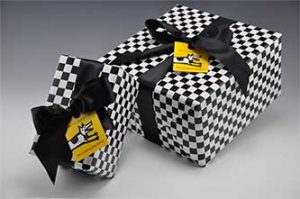 Related Artists