"My intention is to make art more accessible by allowing it to function and to provoke thoughts about oneself and the world around."
Scott Grove, a sculptor for over 20 years, is a true craftsman. He uses a broad media mix, ranging from wood to fiberglass to precious metals. Even with the newest of manmade materials and technology, his work reflects his respect for fine craftsmanship and the traditional work ethic.
Like what you see? Give us a ring! We can wrap it and ship it today.
P: 772-234-6711
The dog always wraps for free!
Give a gift from the Laughing Dog Gallery, and our signature gift-wrapping will let them know it's something spectacular before they even open the package.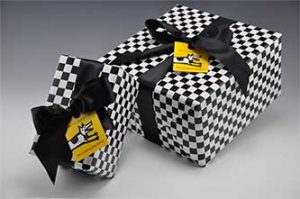 Related Artists