As a long time resident of Vero Beach, FL, Sally has always considered herself lucky to live in such a great community.
Her curiosity "of all things crafts" is what has made her a lifelong learner, with her current passion being a love affair with felt.
Inspiration to work with felt came when a friend gave her a small felted orange orb. Wanting to know how to make one herself, she began working with wet felting and needle felting techniques to create her own collection.
The texture and pliability of wool make it a dream to work with, while the rich color combinations are endless. Both characteristics have inspired her to create pieces that are vibrant and whimsical.
Like what you see? Give us a ring! We can wrap it and ship it today.
P: 772-234-6711
The dog always wraps for free!
Give a gift from the Laughing Dog Gallery, and our signature gift-wrapping will let them know it's something spectacular before they even open the package.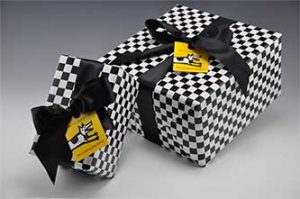 Related Artists