"Fused glass represents a magical canvas of color and light for me. The richness, luminescence and depth of layered glass allow me to express my creativity in its purest form. I love to draw and find glass to be the richest drawing pad I've ever experienced. The luminescent quality of glass embodies an energy like no other medium. Combining glass with other mediums, practically metals, is a fascinating challenge I never tire of."
Like what you see? Give us a ring! We can wrap it and ship it today.
P: 772-234-6711
The dog always wraps for free!
Give a gift from the Laughing Dog Gallery, and our signature gift-wrapping will let them know it's something spectacular before they even open the package.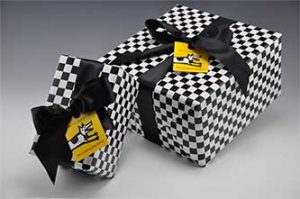 Related Artists