"We are always looking for new ways to bring a little more personality to the things around us– especially the things that we use everyday!"
Mike and Kim hand-select the best woods in order to create long-lasting showpieces fitting for the kitchen countertop. Mike designs the artwork and hand cuts each letter or image, then Kim takes over, hand-sanding and oiling each piece with food grade mineral oil.
Like what you see? Give us a ring! We can wrap it and ship it today.
P: 772-234-6711
The dog always wraps for free!
Give a gift from the Laughing Dog Gallery, and our signature gift-wrapping will let them know it's something spectacular before they even open the package.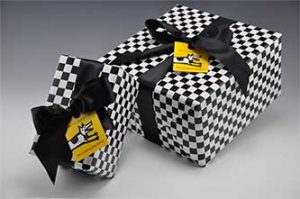 Related Artists