"My passion for woodworking began as a child when I was inspired by watching my father make furniture for our home. When I joined Boy Scouts, I read a book by Eric Sloane called "A Reverence for Wood." That book, in combination with my love for nature, gave me a deep appreciation for wood and trees."
Like what you see? Give us a ring! We can wrap it and ship it today.
P: 772-234-6711
The dog always wraps for free!
Give a gift from the Laughing Dog Gallery, and our signature gift-wrapping will let them know it's something spectacular before they even open the package.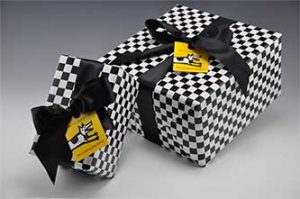 Related Artists