Mary Mullaney's "contemporary cameo" blown and carved vessels depict microcosms of captivating natural beauty or unusual landscapes of the mind. The challenging hot glass techniques used provide thin, transparent color layers which, when carved into, result in the myriad hues and shades of color which characterize Mullaney's surface compositions. The result is a highly personal, voluminous, sculptural narrative which explores the undulating curves in the form.
Mary Mullaney began blowing glass in 1984 at Southern CT State University under Peter Pelletieri and Chris Lubinski. A long time active participant in her local art community, Mary has also taught and lectured at a variety of venues including Horizons New England Craft School and The Studio at the Corning Museum of Glass. Her award winning work is featured in numerous art publications and has been exhibited in galleries throughout the US and internationally since 1988.
Like what you see? Give us a ring! We can wrap it and ship it today.
P: 772-234-6711
The dog always wraps for free!
Give a gift from the Laughing Dog Gallery, and our signature gift-wrapping will let them know it's something spectacular before they even open the package.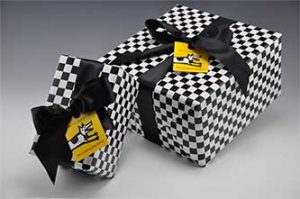 Related Artists