"My inspiration comes from the natural world, the hills and plains of Dakota. Stylistically, I am inspired by the art of the Art Nouveau Age. Like the artists of that time, I am interested in a depiction of plant and animal life in a pantheistic spirit. My natural forms are meant to be expressive without being strictly realistic."
Loy Allen's lamp worked glass art reflects the natural world. Each piece is unique and has been hand formed. Many have had "life" literally breathed into them.
Like what you see? Give us a ring! We can wrap it and ship it today.
P: 772-234-6711
The dog always wraps for free!
Give a gift from the Laughing Dog Gallery, and our signature gift-wrapping will let them know it's something spectacular before they even open the package.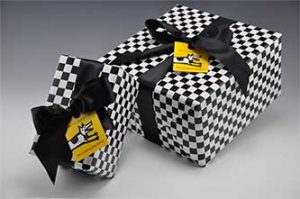 Related Artists