Cookies, bones, treats — whatever you like to call them, doggies love them and get so excited when they hear that jar lid open!
It is highly important to Louise Bilodeau that her pieces withstand the test of everyday use, which is why Louise creates all of her pieces from start to finish. Her pet pottery is durably made with cone 6 clay and is dishwasher safe.
Like what you see? Give us a ring! We can wrap it and ship it today.
P: 772-234-6711
The dog always wraps for free!
Give a gift from the Laughing Dog Gallery, and our signature gift-wrapping will let them know it's something spectacular before they even open the package.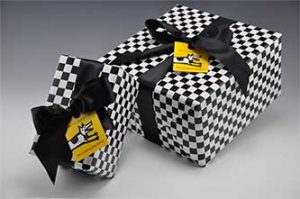 Related Artists