Laurie strives for a non-manicured, organic look by layering impressions taken from vintage lace, buttons and hand made stamps. Influenced by the colors and textures found in her travels throughout France, Italy, Spain and the rural Midwest, her pallet is lush and vibrant.
Pollpeter Eskenazi is perhaps most notably collected for her mastery of glaze patterning and critical attention to detail. Her work possesses a feminine, playful touch that speaks to contemporary sensibilities with bits of nostalgia woven into each piece.
Like what you see? Give us a ring! We can wrap it and ship it today.
P: 772-234-6711
The dog always wraps for free!
Give a gift from the Laughing Dog Gallery, and our signature gift-wrapping will let them know it's something spectacular before they even open the package.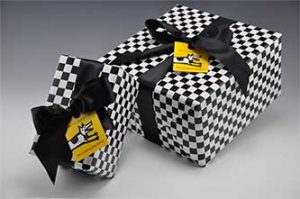 Related Artists