Jeremy grew up on Cape Cod with a healthy respect for the ocean and its inhabitants.  Scuba diving has deepened his knowledge of the sea, and he likens the sense of harmony he feels underwater to that of blowing glass.
"To manipulate molten glass with fire is a way to look closer and experience what I love with an almost extreme mode of consciousness.  This heightened sense of awareness is what I strive to maintain.  It is the same sense I experience while diving.  For me, glass is the perfect medium to mimic the sea while reflecting the fragility of the ocean's sea life and ecosystems.  My designs express what I miss, what I look forward to, and what I dream."
Like what you see? Give us a ring! We can wrap it and ship it today.
P: 772-234-6711
The dog always wraps for free!
Give a gift from the Laughing Dog Gallery, and our signature gift-wrapping will let them know it's something spectacular before they even open the package.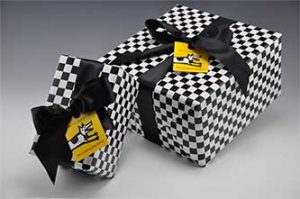 Related Artists