Glass is a medium born from organic elements and fire. It is this aspect of glass that Jeremy and Allison try to express in their work. They allow each piece to take on individual characteristics within the essential form, incorporating earth tones and textures that appeal to both the eye and the touch. With this philosophy in mind, they craft everything from one-of-a-kind, contemporary platters and vessels to traditional bowls and vases.
"I am amazed by the beauty that I find in nature. In my glasswork, I try to express what I see natural world. The things that attract me are usually subtle and soft, but strong in their qualities of form, harmony and uniqueness. Tight set patterns don't attract me, random textures do. Examples outside are numerous; the delicate curl of a dying leaf, the crusted bark of a tree, a spider's web, a snow drift, the subtle trailing of moss on a river rock. I hope that my glass work captures the beauty in these things and brings it to everyone who happens upon it." – Jeremy
Like what you see? Give us a ring! We can wrap it and ship it today.
P: 772-234-6711
The dog always wraps for free!
Give a gift from the Laughing Dog Gallery, and our signature gift-wrapping will let them know it's something spectacular before they even open the package.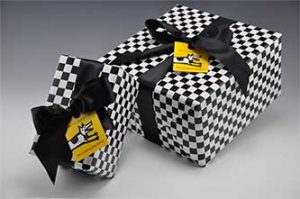 Related Artists