"I enjoy and appreciate many aspects of hot glass, but it's the aesthetics of cast glass that has held my attention for the last 15 years. I love the whole process of designing work and overcoming the technical challenges that seems to come with each piece. In the end, it's simple beauty that moves me most, and I feel successful and grateful when it moves others."
Like what you see? Give us a ring! We can wrap it and ship it today.
P: 772-234-6711
The dog always wraps for free!
Give a gift from the Laughing Dog Gallery, and our signature gift-wrapping will let them know it's something spectacular before they even open the package.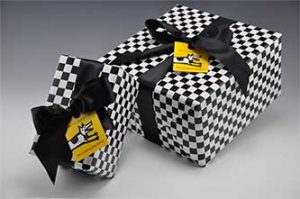 Related Artists