Watson's interest in woodworking evolved from his childhood, with influence from his father and grandfather. He chose to pursue woodworking over an electronics career because he is able to express his creativity with his hands and design innovative works relatively quickly. Watson is recognized nationally and internationally for his exquisite boxes and has had his work published several times.
Like what you see? Give us a ring! We can wrap it and ship it today.
P: 772-234-6711
The dog always wraps for free!
Give a gift from the Laughing Dog Gallery, and our signature gift-wrapping will let them know it's something spectacular before they even open the package.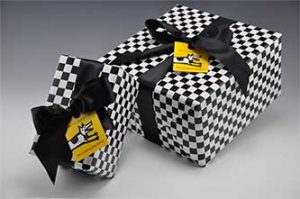 Related Artists