Ed and Kate Coleman create work that is a collaboration between two artists; they are separate people with ideas that merge.
Ed and Kate believe that life is more beautiful and more livable when surrounded by things made by hand. Their work is created for those who search for this quality in fine craft objects.
Like what you see? Give us a ring! We can wrap it and ship it today.
P: 772-234-6711
The dog always wraps for free!
Give a gift from the Laughing Dog Gallery, and our signature gift-wrapping will let them know it's something spectacular before they even open the package.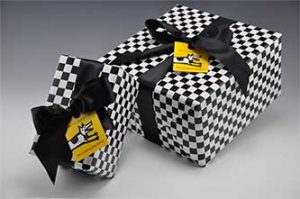 Related Artists