David Urso's highly sophisticated handcrafted jewelry is a feast of color, form and surface. The jewelry is characterized by sensual organic shapes and a unique use of reclaimed and pulverized semiprecious stones, which are set in sterling silver or bronze.
David's work combines the classic beauty and sparkling opulence of the ancient with the clean lines of modernity. All pieces are designed and created in his Hudson Valley, New York studio.
Like what you see? Give us a ring! We can wrap it and ship it today.
P: 772-234-6711
The dog always wraps for free!
Give a gift from the Laughing Dog Gallery, and our signature gift-wrapping will let them know it's something spectacular before they even open the package.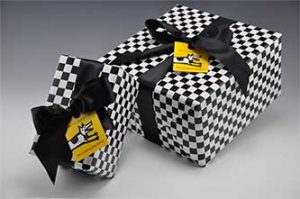 Related Artists