"My current body of work is focused on utilizing new and unusual ways to marry metal with glass. The series draws on personal experiences I've had over the years, as well as explores the boundaries of glass and metal. The pieces are blown, carved and polished glass, cold assembled to hand fabricated metal armatures as well as sheet metal inlays. I enjoy the honest work each day of creating something completely from my hands and stretching myself to always create something better."
Like what you see? Give us a ring! We can wrap it and ship it today.
P: 772-234-6711
The dog always wraps for free!
Give a gift from the Laughing Dog Gallery, and our signature gift-wrapping will let them know it's something spectacular before they even open the package.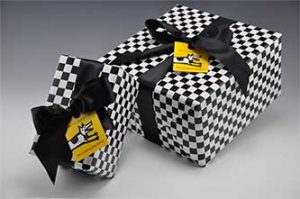 Related Artists