David Rasmussen is one of only a handful of designers who also handcrafts his elegant and detailed work. His design is a response to modern aesthetics and resonates with iconic design. Concentrating mostly on furniture, architectural built-ins and tabletop designs, David practices his craft in Carbondale, Colorado.
Like what you see? Give us a ring! We can wrap it and ship it today.
P: 772-234-6711
The dog always wraps for free!
Give a gift from the Laughing Dog Gallery, and our signature gift-wrapping will let them know it's something spectacular before they even open the package.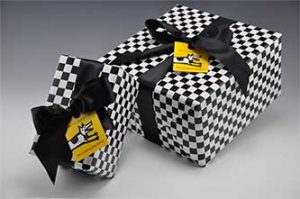 Related Artists