"I am an artist who delights in creating forms that celebrate the texture and color dimensions of both traditional and non-traditional materials and techniques. I strive for simple elegance, and use diverse materials such as resin, paper, film, cement, wood and plastics to create spare, timeless objects of wonder. The handmade Rift Vase was born from a desire to see an impossibly thin wood vessel hold water. Each piece is an individual landscape where the form of the vessel becomes a reverent frame."
Like what you see? Give us a ring! We can wrap it and ship it today.
P: 772-234-6711
The dog always wraps for free!
Give a gift from the Laughing Dog Gallery, and our signature gift-wrapping will let them know it's something spectacular before they even open the package.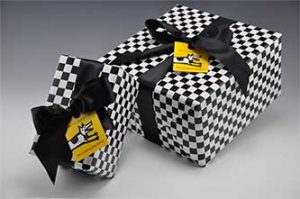 Related Artists