Christina's work has always been about color. She started her career as a painter and has brought that sensibility to her jewelry. Her focus is on unusual gemstones and color paired with modest elegant design. She hand picks each gemstone, and each piece is handmade in her Brooklyn studio.
Like what you see? Give us a ring! We can wrap it and ship it today.
P: 772-234-6711
The dog always wraps for free!
Give a gift from the Laughing Dog Gallery, and our signature gift-wrapping will let them know it's something spectacular before they even open the package.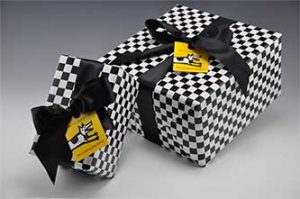 Related Artists