Bob Rickard learned design while taking a theatre course in his college years. There, he was taught to build and light stage sets. After college, he was challenged creatively by staging productions for a regional California theatrical company.
Seeking a way to return to producing more concrete works, combined a lifelong interest in "puttering out in the garbage" with the visual aspects of the theatre. His tools are those common to metal fabrication: saws, sheer, brake, torch, plasma cutter, welder, drill press, grinder, blast cabinet, and spray booth.
While he has had no formal art education and no training in metalwork, his experience in the theatre and the garage provide Rickard with skills which he is constantly expanding through experimentation with designs and processes.
Like what you see? Give us a ring! We can wrap it and ship it today.
P: 772-234-6711
The dog always wraps for free!
Give a gift from the Laughing Dog Gallery, and our signature gift-wrapping will let them know it's something spectacular before they even open the package.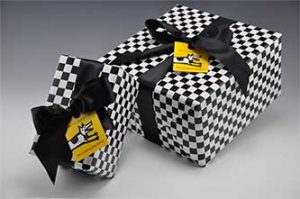 Related Artists