Bob & Laurie Kliss strive to enrich the lives of art lovers everywhere with their whimsical world of glass work, where color and texture combine to enhance their surroundings. For over fifteen years, they have taken pleasure in each handmade item produced in their sunny Central California studio.
Like what you see? Give us a ring! We can wrap it and ship it today.
P: 772-234-6711
The dog always wraps for free!
Give a gift from the Laughing Dog Gallery, and our signature gift-wrapping will let them know it's something spectacular before they even open the package.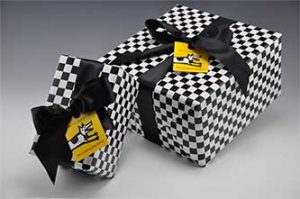 Related Artists