William Tabar is the inventor and original patent holder of the Sand Picture.
Each Sand Picture contains seven different sands from around the world. The black sand, which is the heaviest, is from Africa. The white sand is from White Sands, New Mexico. The green sand is from South America and the coral pink sand is from southern Utah. The sands do not mix together because of their different weights.
Like what you see? Give us a ring! We can wrap it and ship it today.
P: 772-234-6711
The dog always wraps for free!
Give a gift from the Laughing Dog Gallery, and our signature gift-wrapping will let them know it's something spectacular before they even open the package.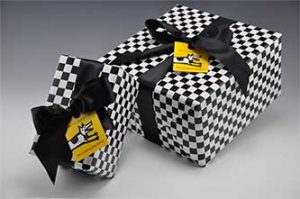 Related Artists