Ben and Kate Gatski possess an uncommon vision — to honor agriculture through art. They established Gatski Metal to design and fabricate one-of-a-kind metal works that express the universal connection to art. Ben and Kate use remnants of agricultural machinery to create funky and enriching sculptures. They hand select each piece from machinery found on local farms. This process often involves tearing apart very large pieces of equipment to get smaller, unique parts for the sculptures. Both Ben and Kate participate in the design process, always aiming for simplicity and uniqueness in form.
Like what you see? Give us a ring! We can wrap it and ship it today.
P: 772-234-6711
The dog always wraps for free!
Give a gift from the Laughing Dog Gallery, and our signature gift-wrapping will let them know it's something spectacular before they even open the package.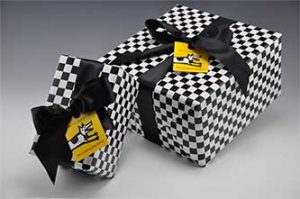 Related Artists