Ananda draws inspiration from natural forms, and the vibrant luminosity of natural gemstones. She strives to create jewelry with clean lines and simple elegance, while maintaining evidence of the human hand.
Her process involves creating handmade sterling silver or 22K gold settings, into which she places a tiny painting or gemstone. The gemstones are handpicked for their unique characteristics, and every painting is done individually.
Like what you see? Give us a ring! We can wrap it and ship it today.
P: 772-234-6711
The dog always wraps for free!
Give a gift from the Laughing Dog Gallery, and our signature gift-wrapping will let them know it's something spectacular before they even open the package.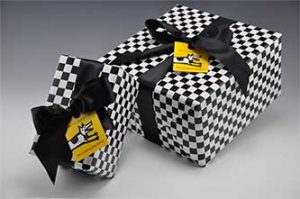 Related Artists