A Florida native, Aletha Rector learned the basics of clay while residing on the island of Okinawa. Many years later and a continent away, she has developed these early lessons into her own unique style and method. Her sculpture, created in clay, is kiln-fired then pit-fired to achieve its unique color and texture.
Like what you see? Give us a ring! We can wrap it and ship it today.
P: 772-234-6711
The dog always wraps for free!
Give a gift from the Laughing Dog Gallery, and our signature gift-wrapping will let them know it's something spectacular before they even open the package.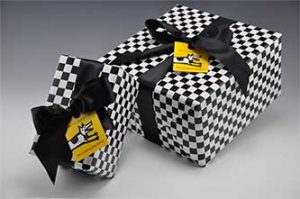 Related Artists